After the tropical storm passed through the Gulf last weekend, the temperature here in Florida cooled off dramatically. It almost feels like fall! So it felt like time to drag my fall decor out of the garage, and now this autumn wreath is hanging on my front door: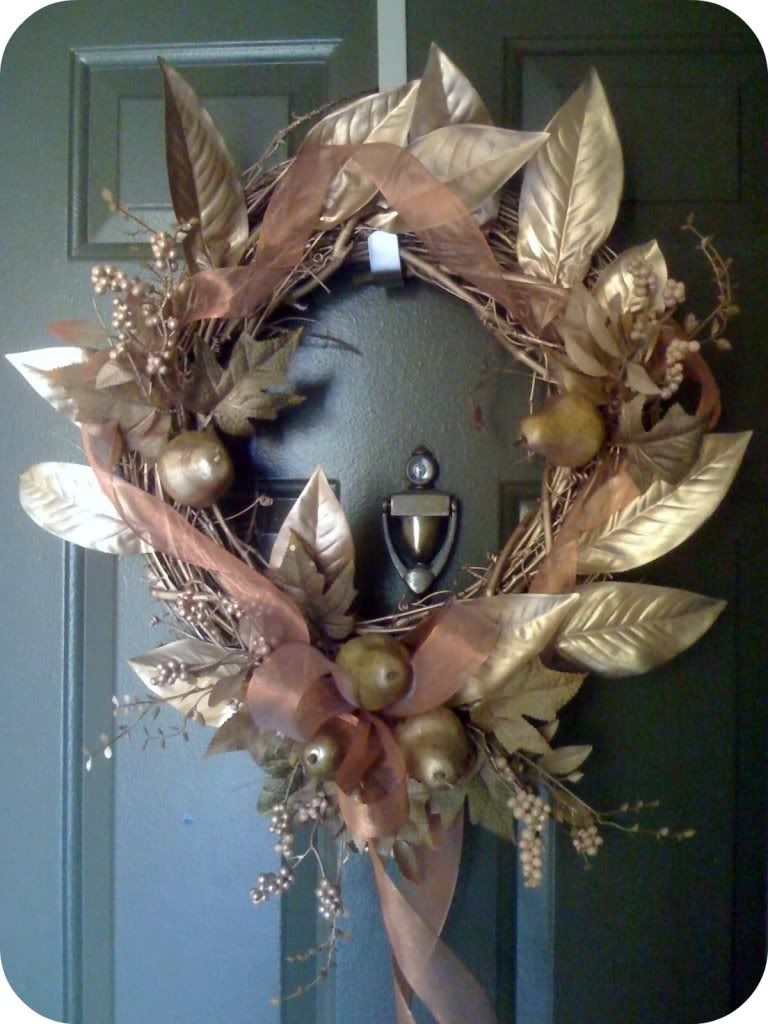 I actually made this wreath last fall. I even cheated on the picture--it's from last fall at my old apartment! But I didn't have a blog then so I thought it was only fair that I get to share it with you now! I can't take credit for the creativity (although I wish I could because I love the way this wreath turned out!). The idea came from one of the free projects that they have hanging in the aisles at Jo-Ann's. But I'll let you know how I made it, anyway! :)
I started with a grapevine wreath, then hot glued magnolia leaves and those "fall picks" that they have at Jo-Ann's (but you could use a substitute such as faux apples, gourds, pumpkins, berry sprigs, or whatever you like for a different look) all over the wreath. Next, I lightly coated the whole thing with gold spray paint (again, you could use whatever color you like) and loosely wrapped the ribbon around the circumference of the wreath, tying it in a bow at the bottom and hot gluing it in place as needed. And viola! It was beautiful and I'm still proud of it a year later!
Have you made any fall decorations that you're particularly proud of? Tell me about it or share a link with me in the comments! I'd love to see! :)
This post is linked up here.