Today we're continuing on with our tour of guest posts! I'm excited to introduce you to Amy of Sing for Your Supper today.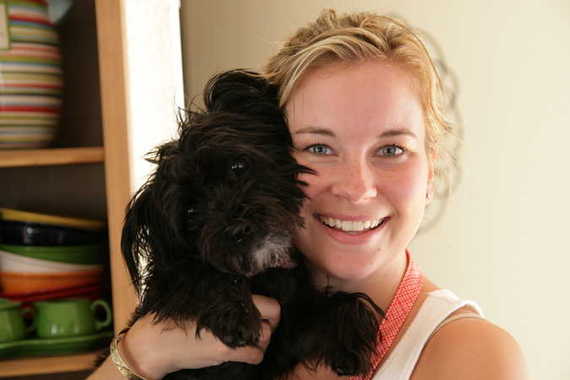 As you can probably guess from the title, Amy is the author of a fabulous cooking blog! I stumbled upon her doggie frozen yogurt bites recipe early this year and have been in love with her blog ever since! My favorite thing about her blog is the organization of the recipes. She makes it so easy to navigate so you can easily use your favorite recipes again and again! But that's enough from me. Amy, take it away! :)
Howdy! It's Amy of Sing For Your Supper and I'm thrilled and honored to be guest posting here at Crafty Critique! I'm an opera singing food enthusiast from Dallas who loves cooking, baking and all things gooey and chocolaty! I'm super lucky to be able to cook for my husband, Joel, who is the world's least picky eater! He always loves everything I make and even gets in on the cooking action sometimes as well! Our Schnauzer/Terrier furbaby and Sing For Your Supper mascot, Izzy keeps us on our toes and puts a constant smile on our faces! My food blog is just a simply gathering of recipes, photos and stories rich in warmth and memories. I love being able to share my recipes with family and friends and hope you'll enjoy!
I chose to share my recipe for Pumpkin Pound Cake with you today because it's so perfect for this time of year. The weather is cool and crisp and I absolutely LOVE getting in my kitchen and baking up lots of sweet, pumpkin-y things! The cake is moist, a little dense and full of warm fall spices- plus, it's a real crowd pleaser! The perfect end to a dinner party or with a cup of coffee in the morning. I hope you enjoy this cake as much as we do!
1 cup granulated sugar
1 teaspoon ground cinnamon
1/4 teaspoon ground cloves
1 small package instant vanilla pudding mix
1 can (15 ounces) pumpkin puree
Confectioners' sugar, for dusting

In a large bowl, combine sugar and oil until blended. Add eggs, one at a time, beating well after each addition. In a separate bowl, combine flour, baking soda, cinnamon, nutmeg, salt, cloves and pudding mix; add to egg mixture alternately with pumpkin, beating well after each addition.
Transfer to a greased bundt pan. Bake at 350 degrees for 60-65 minutes or until toothpick inserted near the center comes out clean. Cool for 10 minutes before inverting onto a wire rack. Remove from pan and cool completely. Dust with confectioners' sugar. Serves 12-16.