Guess what guys?! I was featured over on craft gossip today! I'm so excited because it's my first time to be featured anywhere ever!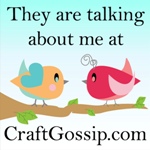 I feel so proud. Haha. You can go check it out
here
if you'd like. :)
Thanks for stopping by!
--CC
EDIT:
And I was featured over
here
at
So Very Creative
, too. It's a lovely blog so you might like to stop by. :)
P.S. Two features in one day? I can't believe it! So exciting.